Customer Reviews
09/02/2021
Kim W.

GB
I recommend this product
No more snoring!
Sky already had one nestie but I wanted another one for upstairs. I'd worked out that when she sleeps in her nestie with her head up on the side she doesn't snore. And I couldn't take anymore of the snoring in her night bed. She loves her nestie. She often opts to lie in there instead of on the sofa or bed. She just falls out with me when I change the cover! I love that I can just change the cover when it's dirty instead of having to put the whole bed in the wash and try to quickly dry it out again. I have the wipe clean nestie so once it's all stripped off I give it a wipe over with my neutrahaze products and then put a new cover on and away we go!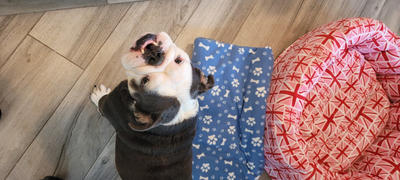 07/24/2021
Michelle B.

GB
I recommend this product
Excellent bed
The Nikki's Nestie is brilliant. It's a very sturdy and a lot heavy than expected. Really great quality. My 2 bulldogs love it. So is a win win for me.