GoughNuts Interactive Coloured Ball
£20.50
The GoughNuts Ball bounces well, floats, and we hope is a toy the dog will enjoy playing with. Durable and with a lifetime guarantee
Each GoughNuts Interactive Coloured Ball is designed with a multi-axis groove system for the purpose of helping to aid in breathing in a worst case scenario air blockage situation.
Sizing is the most important factor and therefore be sure the ball is large enough
The GoughNuts Black Ball has great bounce, it floats, it is fun and it is very durable.
For more information about this product, please read the description below
Out of stock
Description
GoughNuts Interactive Coloured Ball
The GoughNuts Interactive Coloured Ball bounces well, floats, and we hope is a toy the dog will enjoy playing with. Durable and with a lifetime guarantee
Each GoughNuts Interactive Coloured Ball is designed with a multi-axis groove system for the purpose of helping to aid in breathing in a worst case scenario air blockage situation.
Sizing is the most important factor and therefore be sure the ball is large enough
The GoughNuts Black Ball has great bounce, it floats, it is fun and it is very durable.
The GoughNut Ball Black is an interactive toy, not for constant chewing! If you are looking for chewing toy, please consider the Rings or Sticks.
If the red centre is exposed, please return the toy for replacement under the Lifetime Guarantee.
Virtually Indestructible – Many companies claim it, GoughNuts guarantees it.
The GoughNuts Ball bounces well, floats, and we hope is a toy the dog will enjoy playing with. This is the first interactive toy, as the GoughNuts Ball is not designed as a chew toy. If the dog is left to chew it will attack the grooves and if you have a power chewer it will destroy GoughNuts Ball. Please stop at the red. We will replace the toy as described in our guarantee section however please realize that the Original GoughNut ring design remains the most durable chew toy.
Bounces well
Durable, safe and bright
Floats
Interactive toy
Not for chewing
Lifetime guarantee
Easy colour coded system
Suitable for medium to extra large dogs. Not suitable for small dogs or puppies.
Due to the toughness of the product, senior dogs may struggle with brittle teeth and should be used with caution.
Useful Information
Size: Ball size 3 inches ( 7.5cm)
Colour: Orange, Yellow or Green. Colour sent at random.
Not suitable for heavy chewers
Caution: For supervised play only. Know your dog and choose the appropriate size and type of toy to prevent choking or other harm. Remove toy if damaged.
About GoughNuts
GoughNuts Original Ring was the flagship chew toy first designed in 2006. There was a need for a safer product and there was a need for tougher or more durable product. The Original Ring design has no weak points. The dog will grab the Ring in a different spot each time creating months and or years of power chewing.
If you are new to GoughNuts please know that we believe you. You may have "THAT" dog. We have heard it all. Our goal has always been to make chew toy products that can be safe for every dog. We have a wide range of product with a goal of matching your dog's power and persistence. Whether you have a "grinder", a "picker" or a dog with a massive power jaw, we have a GoughNuts Ring for you
Additional information
| | |
| --- | --- |
| Weight | 0.205 kg |
| Brand | Goughnuts |
| Breed Size | Medium Breeds, Large Breeds, Extra Large Breeds |
| Special Life Stages | Adolescent Chewers |
Customer Reviews
02/13/2021
Mrs T.

GB
I recommend this product
Good and Solid
The ball is very well made and my dog hasn't managed to destroy it at all. It does seems expensive for what actually is just a ball but it will last him a while. It has been played with but he does lose interest after a while and only really plays with it if someone will play with him such as fetch. A good all round ball with added bonus of floating but expensive really for a ball.
02/04/2021
Lorraine G.

GB
Amazing ball thats never going to be chewed to bits..
This ball is fab, jack our border collie plays with it a lot. He's a dog that chews & destroys all his toys within weeks of getting them. However, this ball is indestructible. Jack has tried his very best to chew his goughnuts ball. He's had it for nearly a month & as will see in the photos there's not a mark on it. I highly recommend this ball it's going to last forever it's so brilliant.
Goughnut are the nuts
We have owned a goughnut donut for a couple of years but our collie is ball obsessed. When I say obsessed.... she is obsessed with destroying them. We tested the ball knowing it had grooves that she could really get her teeth into. We have now had it for 2 months it's still in one piece with no chunks missing, the ball also has a great bounce so can be taken outdoors for a game of fetch, just don't let it drop on your foot 🙊 It's a collie approved thumbs up from us and even better that it has a replacement guarantee if it's destroyed 👍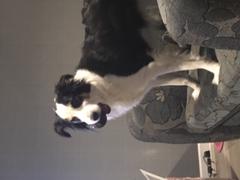 F & J's great not convinced on ball
I got this for my small Boston Terrier it came & I thought it was gonna be too big for her. She initially liked it & run around chucking it everywhere (beware it's like a brick & she was knocking everything over with it). But she has gone off it now & is no longer interested in it
Brilliant!
The first toys my 2 staffy dogs haven't destroyed! I am EXTREMELY impressed! We have the ball and goughnut version. Fantastic:-))
All orders placed before 12:00 Monday – Friday (exc Bank Holidays) will aim to be dispatched the same day.
During busy periods such as sale periods the dispatch time may be slightly delayed.
For UK Mainland Orders 0-2kg we use Royal Mail as our delivery partner.
Delivery Options Available
RM 48 Hour – £5.99
RM24 Hour – £8.99
Orders over £75 will receive RM 48 hour free-shipping. Due to Covid -19 we are not currently offering a non-tracked service.
All international orders are priced on weight and will be quoted at the checkout.
Royal Mail delivery time scales are guidelines and reasonable endeavors. During peak periods these may experience delays however Royal Mail will not refund shipping costs due to delayed deliveries.
Please note that Nikki's Nesties products are handmade to order and can take up to 14 days to arrive from point of order and will be sent separately from all other items as part of the same order.
Orders which including items labeled on its description as "temporarily out of stock" or on backorder will be dispatched once all items are back in stock. 

Any questions on out of stock items please email customerservices@frankandjellys.com