Sale!
Dog Odour Home Cleaning Bundle
Do you worry about those 'doggy' and other unwanted smells in your home and garden…?
These products will not only clean, banish and neutralize unwanted odors but will do this all whilst being pet friendly and non toxic!!
Odor- Kill. A product that can be used both inside the home and outside, even on artificial grass. Its natural and safe to use around animals and the Frank and Jellys doggy detective team went crazy for this product! Helps eliminate ammonia and reduces risk of bacterial and viral respiratory contamination. Dilute one part to 50 parts water so the product is not only safe for your four legged friend but also long lasting
PowAir Gel. Put down your air freshener and start using an odour neutraliser made from over 40 essential oils, just open the lid and let the gel work its magic. You can even decant the gel into your own pots to have some in every room the only difficult decision you will have to make is whether or not to opt for the Apple Crumble, Tropical Breeze or Passion Fruit scent.
PowAir Penetrator Spray. Penetrator Spray is not a masking agent, this is a true odour neutraliser, physically reacting with the bad smells and taking them out of the air and surfaces. A powerful surface spray that combines natural essential oils to safely eliminate organic odours trapped in materials such as cloth, textiles, upholstery, carpet, wood and concrete which means that it's effective at combating even the most stubborn odours such as pet urine and fox faeces!
Description
Penetrator Spray:  We've all experienced bad smells in our life and at work, whether it be from our pets, our children or from many other sources beyond our control.
Fortunately there is solution! Penetrator spray will permanently remove offensive odours at speed and without the use of any harmful toxic chemicals. This makes it safe to use in commercial situations and around people and animals. Spray onto any surface or upholsters where bad odours are present and leave to absorb into the material.
PowAir Gel: PowAir works in any home or workplace and absorbs the odours in a large area, taking out the smell permanently. It is also infused with pleasant fragrances to leave the air smelling clean and fresh. The simplest way to use PowAir Gel is to remove the lid and leave it to naturally disperse through the air (occasionally shake the jar to agitate the contents). You can pour the gel into a decorative containers around your home without compromising on the style of your rooms.
Odor-Kill: A very powerful deodoriser, known for its' ability to kill even the strongest smells and creates a safe, healthy environment.. It helps eliminate ammonia and reduces the risk of bacterial and viral respiratory contamination. Can be used wherever smells persist such as kennels, catteries, stables, homes, gardens and even on artificial grass. Use on sofas, patio/stoney areas, beds and to clean carpets either in a steam cleaner or carpet cleaner, washing machines……also a small amount in the hoover bag will do away with stale dusty vacuum smells.
Additional information
| | |
| --- | --- |
| Product | Odor Kill, Pow Air Gel, Pow Air Penetrator Spray |
Odor Kill
| | |
| --- | --- |
| Weight | N/A |
| Size | 2.5 Litre, 5 Litre |
| Brand | Animal Health |
| Breed Size | Small Breeds, Medium Breeds, Large Breeds, Extra Large Breeds |
| Special Life Stages | Puppy, Senior Dogs |
Pow Air Gel
| | |
| --- | --- |
| Weight | 0.43 kg |
| Size | 428g, 732g |
| Scent | Apple Crumble, Passion Fruit, Tropical Breeze |
| Brand | PowAir |
| Breed Size | Small Breeds, Medium Breeds, Large Breeds, Extra Large Breeds |
| Special Life Stages | Puppy, Senior Dogs |
Pow Air Penetrator Spray
| | |
| --- | --- |
| Weight | 0.25 kg |
| Size | 500ml |
| Brand | PowAir |
| Breed Size | Small Breeds, Medium Breeds, Large Breeds, Extra Large Breeds |
| Special Life Stages | Puppy, Senior Dogs |
Customer Reviews
07/28/2020
victoria c.

GB
I recommend this product
Odour cleaning bundle
Received my odour cleaning bundle and I love it, love the smell and love the way it's safe for my family and my puppy. Cody now has a beautifully smelling bed and I have a gorgeous smelling house Can't wait To order some more.
07/23/2020
Hannah L.

GB
I recommend this product
Fantastic products
I couldn't wait for my products to arrive after reading the fantastic reviews. I brought the bundle which was fantastic value and when they arrived it didn't disappoint. With two bulldogs and a litre of pups I really needed something that helped with our after using the odour controller and the air gel u would never have known there was a dog in the house. Great stuff and will be ordering again soon
Great Value
I purchased this bundle a while ago but wanted to wait until I'd used the products for a month plus before doing a review. What can I say, as brilliant as everyone says the gels and blocks are fabulous and having. 2 water loving demons, one of which isn't washed often, so as not to strip his coat oils, being double coated, my home and car no longer smell of wet dogs (or ****! ) the gels last about 3 mths I have topped them up with warm water and given them a stir after about 9 weeks and that seems to give them more life The odour **** is fabulous cleans the windows and is superb to use in the steamer even on curtains and clothes.
Pow air - wow air
Home cleaning bundle , great price for what you receive, Iv bought the pow air gels and spray previously and was pleased, the odour control disenfectant in this bundle is absolute magic!!!, smells amazing only a couple of hiccups with my pug cocking his leg still so it appears to have done its job at removing odour.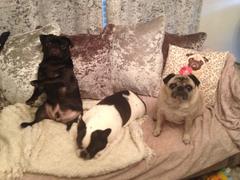 I can't stop cleaning!
The delivery was super speedy and packaged very well. No need to worry about anything leaking! The powair spray is fantastic. Does exactly what it does on the bottle and keeps things smelling fresh for days. I use it on all my soft furnishings and generally around the house if I feel like the place is smelling a little too 'doggy'. The powair gel fresheners are lovely. A lot bigger than I expected and they definitely neutralise any smells that are hanging around. I ordered the 'Apple Crumble' scent however I think I would order something different next time...not because the smell is horrible it's just not quite my favourite! Lastly we have the star of the show - Odorkill. Because of this beauty I can't stop cleaning. My floors come up sparkling, and the house is left with a lovely bubblegum scent. All it takes is a little capful into a spray bottle and you're away. Believe me a little goes a long way! Thanks Frank & Jellys!
All orders placed before 12:00 Monday – Friday (exc Bank Holidays) will aim to be dispatched the same day.
During busy periods such as sale periods the dispatch time may be slightly delayed.
For UK Mainland Orders 0-2kg we use Royal Mail as our delivery partner.
Delivery Options Available
RM 48 Hour – £5.99
RM24 Hour – £8.99
Orders over £75 will receive RM 48 hour free-shipping. Due to Covid -19 we are not currently offering a non-tracked service.
All international orders are priced on weight and will be quoted at the checkout.
Royal Mail delivery time scales are guidelines and reasonable endeavors. During peak periods these may experience delays however Royal Mail will not refund shipping costs due to delayed deliveries.
Please note that Nikki's Nesties products are handmade to order and can take up to 14 days to arrive from point of order and will be sent separately from all other items as part of the same order.
Orders which including items labeled on its description as "temporarily out of stock" or on backorder will be dispatched once all items are back in stock. 

Any questions on out of stock items please email customerservices@frankandjellys.com